Magnetic implant via injection method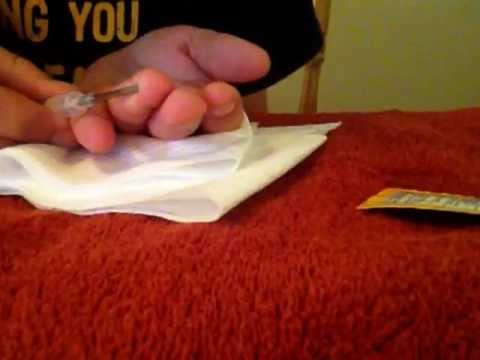 This is one of the first videos on the injection method, I apologize for how uninformitive it is. I was expecting to have someone videotaping me, but my buddy got called into work so I had to make do by myself. I got everything ready before I even started freezing my hand to allow me to do the procedure before my hand defrosted.if I had 1-2 of my friends here like I was originally expecting, I could have had them help setup, which would have allowed me to better explain what I was doing. I did explain originally, but I hesitated before i went in so I threw that video out and made a new one and just went at it, I even slightly hesitated for a second at the beginning of this video after I repositioned myself.
Tools:
1 RFID injector
1 parylene coated neodymium magnet
1 alcohol sanitizing wipe
1 bitch sticker(bandaid)
1 paper towel
1 latex glove
1 Neosporen
Procedure:
Remove sterile injector from package, insert magnet into needle tip.
Fill bowl/pot/bucket with ice water, put latex glove on hand, insert hand in ice water for 30 minutes.
After 30 minutes remove hand from bowl, and remove latex glove.
Wipe finger clean with sanitization wipe.
Insert injector into finger, be sure to not go too deep.
Push down on plunger until you feel the magnet come out.
Apply pressure on magnet as you remove the injector.
Apply neosporen.
Apply bandaid
Keep bandaid on until bleeding subsides, once bleeding stops it is safe to remove bandaid.
The procedure is virtually painless, I recall in earlier posts people were talking about needing procedures with less pain, as I said I felt no real pain, just physical pressure and anxiety. That's about it.
I have provided virtually idiot proof step-by-step instructions on implanting the magnet.