Vivokey Spark Implant Log
Hey all!
Grabbed a spark from Dangerous Things and had my ER Tech friend implant this last Wednesday 3/6. Figured I'd keep a log of how it went and the healing process.
Prep: I used a 5% lidocaine topical patch (Lidoderm) for 3 hrs prior to implant. I also took 440mg of Naproxen for inflammation reduction. I wrapped around the implant site with contact on the palm of my hand under where the needle would go. I'm not convinced the bottom application did anything but hey. 15min prior to injection I washed off any lidocaine with a simple soap/water wash. An icepack was applied directly over the implant site. Finally the icepack was removed, I again washed the site. The chloraprep wipes were used to sterilize the area at site and about 4-5 inches around site as well.
Injection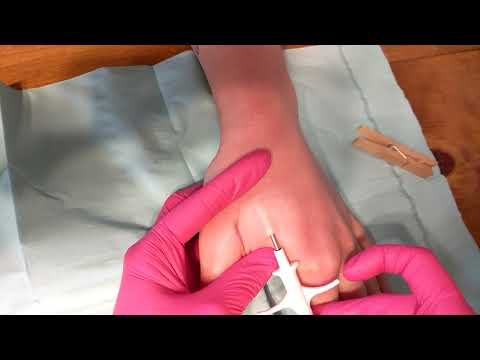 We used an "aeseptic clothespin" to tent the skin, which was removed right after skin pierce. We had hemostats but they were pointy and likely to cause more problems then they alleviated. Following removal of the clothespin, my friend advanced the needle past the "pop" point and into the designated area for the implant. I had a brief sensation of 2/10 burning pain at the very end of the needle. Once advanced appx 2mm past where I wanted it to rest, she withdrew 1mm and depressed the plunger, withdrawing as the spark was pushed out by the plunger. Gauze applied after removal.
Post Care: We used the tegaderm dressing included in the kit, I put it on a little too early, and the bleeding wasn't fully controlled. I was hesitant to apply too much pressure over worry of dislodging or tumbling the implant. This resulted in about a nickel sized bleed through of the bandage. 12hrs later I removed the tegaderm, cleaned the area *around* the wound, and replaced with a new bandage. 36 hours later I switched to a simple band-aid.
Injection site at 36hrs post implant (
https://i.imgur.com/tpGXds0.jpg)
Summary: Super easy, no complications, I was able to read the spark immediately after implanting and have had no issues to speak of yet!
I'll keep a running log of devices that work with the spark.
https://docs.google.com/document/d/1vqEjI6oNidhBhJd7-8BGrZECp--sQhva8v1ltT5clDw/edit?usp=drivesdk
Tagged: